History of Azerbaijani Women
Azerbaijani women were hsitorically very well respected in family and were independent. The first recorded source about it is the legends about the Amazons - a warlike tribe of women warriors. Althougn, they have existed in various cultures throughout the world, however, Amazons are closely associated with Azerbaijan. For instance, ancient Greeks believed that Caucasian Albania was the native land of the Amazons, which the northern part of Azerbaijan. As a proof, they have shown Albanian women who served in the armies of Caucasian Albania when they fought against the Roman invaders during the 1st century BC.
Strabo reported: "Also the Amazons, it is said, live in the mountains of the Caucasian Albania. Theophanes, who took part in Pompeius campaign (106 BC-48 BC) and marched on the country of the Albanians, says that the Geles and the Leges - Scythians - lived between the Amazons and the Albanians.There was a river called Mermadalis, running between these tribes and the Amazons. Others, however, among whom were Metrodorus the Sceptic, and Hypsicrates, who were also familiar with these regions, wrote that the Amazons lived near the border with Gagarians in the northern promontories of the Caucasus called the Ceraunian Mountains.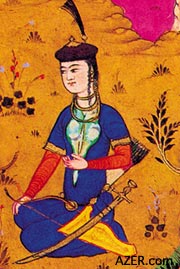 Left: Note the apparel of th woman typical of Amazons, wearing a sword and two cases of ski - one to hold her bow and the other, her arrows.
"The Amazons spend their time isolated from men, occupying themselves with plowing and sowing, planting, taking their herds to pasture and, especially, in breeding horses. The more courageous among them engage in hunting on horseback and exercise martial arts.

"In their youth, all of these women have had their right breast cut off to enable a more effective use of their right arm, especially in throwing the javelin. They also make use of the bow, the axe, and a light buckler (a shield worn on the arm). They prepare helmets, clothing, and waist belts from animal skins.
"In the spring, they celebrate two special months, when they climb the nearby mountains which separate them from the Gagarians. Following an old custom, the Gagarians meet them there and carry out sacrifices with the Amazons. Then they unite to procreate children. They do it secretly in the dark - every Gagarian with the Amazon women that they choose. After the women become pregnant, they return. The female children who are born to the Amazons are kept, but the boys are passed over to the Gagarians to raise. Each Gagarian who is given a child raises it as his own son, despite the uncertainty of its origin." The Gagarians about which Strabo writes were one of main tribes of the Caucasian Albania. In other sources they are called Gargarians or the Gargar people. Together with the Udi people, Gagarians / Gargarians were the most important tribe in the region. The province where they lived was called Gargarian Lowland (now known as Mugan steppe in Azerbaijan).
To learn more, please, visit the web site:
http://www.azer.com/aiweb/categories/magazine/ai131_folder/131_articles/131_amazons.html
The Role of Azerbaijani Women in Classic Music
Azerbaijan is the country of ancient traditions and customs. It has been settled down on a famous «Silk Way» and it was always called «the Country of fires». It is a cradle for the mankind's ancient religion - Zoroastrizm. Many cultural traditions of the East and the West received new life and were assimilated within this country.
Cosmic philosophy of mugam, stirring rhythms of the dance and song melodies, holographic depth of the national poetry, improvisation and constructive refinement were interlaced in the Azerbaijan music.
Magnificent picture of the ethic-aesthetic and artistic world of Azerbaijan people comprise syncretic art of ashugs - national epos narrators; khanende - professional singers-improvisers and the mugam performers; art of the picturesque miniature and monumental carpets foremen; unique in beauty architectural ensembles of palace complexes; high art of Azerbaijan poets.
The integral part of this culture is also the creativity of women: e.g. world famous poetesses Natavan and Mekhsety Gyandjevy; the first in the East opera singer - Shovket Mamedova who received her vocal education in Italy; many other foremen of the opera stage - Fatma Mukhtarova, Agiget Rzayeva, Gyulkhar Gasanova, Marziya Davudova; women-painters and sculptors - Maral Rkhmanzadeh, Elmira Shakhtakhtinskaya, Gully Azimzadeh, O. Gurbanova, N. Melikova, N. Zeynalova; perfect ballerinas and dancers - Gamer Almaszadeh, Leyla Vekilova, A. Dilbazy; women-composers - Adelya Guseynzadeh, Agabadjy Rzayeva, Asya Sultanova, Shafiga Akhundova - the first woman in the East who wrote such complex musical-scenic genre as opera; women-performers K.Safaraliyeva, Kh. Agayeva, E. Safarova; and at last women-scientists Elmira Abbasova, Zemfira Safarova, Solmaz Kasimova and many others who researched aesthetic problems of Azerbaijan culture, its history and sources being the followers of such Middle Ages scientists-musicians like Safiaddin Urmavy, Abdul Kadir Maragy and Mokhsin Navvab Shushinsky who lived on the boundary of 19-20 centuries.
Professional composers' music of Azerbaijan is very young. It exists only about hundred years but more interesting is the fact that within such a short historical period it could pass a way, which European music overcame during only several centuries. Prior to the beginning of the 20th century Azerbaijan music developed in traditions of oral creativity and only since 1908 - a year when the first national opera written by the founder and leading light of the composers' school Uzeyir Hadjibeyov on a Fizuli poem «Leyli and Medjnun» was staged becoming an important date not only for Azerbaijan history, but also for all the East - a triumphal procession of Azerbaijan national musical culture has had the place. In order to imagine a picture of this growth it is enough to name such world famous names as Kara Karayev, Fikret Amirov, Niyazi, Arif Melikov, Khayam Mirzazadeh, Bul-Bul, Rashid Beybutov, Fidan and Khuraman Kasimova, Farkhad Badalbeyli and many others. The huge attention should be paid to the creativity of women-musicians as to represents of a bright and original layer of national culture.
Mekhseti Gyandjevi was a legendary poetess and musician of the 12th century. She won people's hearts by beauty of the forms and philosophical depth of her verses - rubayi, which were wise and full of love quatrains. She performed them accompanying herself on lute. Her creativity was popular during the period of the Sultan Makhmud Selyudjuk government and especially at a courtyard of his uncle Sultan Sandjar. The verses of Mekhseti Gyandjevi had been glorifying in the entire East and poetic tournaments often were arranged in her house. Omar Khayam devoted her some of his verses. The basic poetic genre of her creativity was rubayi - a poetic form with love-philosophical content. Many songs and romances have been written on her verses.
Today our women-composers are also in avant-garde of the national culture development process composing and having a command of many modern music styles: dodecaphony, aleatoric, sonoristic etc. They synthesize harmoniously elements of the modern writing with elements of national rhythm system and melodious structure the nature of which is unique and extremely rich. The result of this alloy is an original composer's thinking, which distinguishes such contemporary women-composers as Elmira Nazirova, Sevda Ibragimova, Afag Djafarova, Frangiz Alizadeh, Rahilia Hasanova, Elnara Dadashova etc. Many of them are also engaged in pedagogical and scientific activity.
The Azerbaijan women-composers began confidently to win the international music arena of the world.
Natavan Khurshud-Banu Mekhtigulu Khan gizy - poetess, musician and artist, (1832 - 1897), - was born in high-mountainous Karabakh city - Shusha - a cradle of many outstanding Azerbaijan poets, philosophers and musicians. This city is fairly considered as a conservatory of Azerbaijan.
Her gentle lyrical and love-philosophical gazels (poetic form) won billions' hearts for their beauty and grace. Many composers address to her poetry even today.
In 1872 she created poetic assembly "Medjlisi-Uns" in Shusha where verses of many outstanding poets of that time were being read.
It is well known that in 1858 there was a significant meeting between Natavan and Alexander Duma (father) in Baki. He had literally struck by high intelligence of this beautiful and wise woman and has favoured her with a box of chess inlayed by mother-of-pearl. Natavan gaved him one of her artworks as a answer-gift.
The Famous Azerbaijani Women Composers
Abdullazadeh Gulnaz Abutalib gizi, composer, 07.09.1946, Baku
Akhundova Shafiga Gulam gizy, composer, 02.01.1924, Shaki
Alizadeh Frangiz Ali Asha gizy , composer
Dadasheva Elnara Ragim Aga gizy, composer, 25.06.52, Baku
Guseynzadeh Adelya Aga gizi, composer, 28.04.1916, Baku
Ibragimova Sevda Mirza gizy, composer, 28.11.36, Baku
Hasanova Rahilia Teymur gizy, composer, 10.11.51, Baku
Hasanova Kamala, composer, 07.02.77, Baku
Kasumova Rukhangiz Nagi gizy, composer, 12.07.40
Mamedova Alia, composer, 17.12.71, Baku
Mamedova Arzu Raiz gizy, composer, 03.02.66, Baku
Nazirova Elmira Mirza Riza gizy, composer, 30.11.1928, Baku
Rzayeva Agabadji Ismail gizy, composer, 15.02.1912 - 04.07.75, Baku
Shafieva Nargiz Makhmud gizy, composer, 01.01.40, Baku
Sultanova Asya, composer
Yousifova Adila Niyazi gizy, composer, 30.07.56, Baku
Jafarova Afag Mamed gizy, composer, 22.04.43, Baku
Jafarova Lala Tahir gizy , composer, 14.09.66, Baku
Zeinalova Hadidja Abdul Rahim gizy, composer, 20.09.75, Baku

The Famous Azerbaijani Women Performers in Azerbaijani Music
Abdullaeva Hurshud Lutvali gizy, harpsichordist
Aliyarova Nargiz, pianist
Aslanova Gulchin, pianist
Babayeva Tofa Agali gizy, violinist, 15.11.65
Babayeva Rasima Ahmed gizy, organist
Gasimova Huraman, singer (soprano)
Gasimova Fidan, singer (soprano)
Gebelinskaya Elnara, performer
Hadjibeyova Ulvia, pianist
Hasanova Lala, violinist
Iskandarova Malak, conductor
Ismailova Rena Nadjafguli gizy, organist
Novruzova Lala , organist
Jafarova Jala, singer (soprano)
Yagubova Taira, performer
Rzaeva Rena Jalaleddin gizy, pianist
The Famous Azerbaijani Women Musicologists in Azerbaijani Music
Abdullayeva Saadat Abutalib gizi , musicologist, 18.01.40
Abbasova Elmira Hamid gizy, musicologist, 10.01.32
Alieva Farah Shirmamed gizy, musicologist
Amrahova Anna Amrahovna, musicologist, 22.01.54
Ahmedova Gudsiya Yusif gizy, musicologist, 17.06.64
Bagirova Sanubar, musicologist
Dadashzade Zumrud Araz gizy, musicologist, 02.06.62
Efendieva Imruz Mamed Sadikh gizy, musicologist, 16.12.35
Farhadova Rena Javad gizy, musicologist, 22.03.1928, Shaki
Farhadova Sevil Tagi gizy , musicologist, 31.07.47
Huseinova Aida Neimat gizy, musicologist, 31.10.64
Huseinova Nargis Siavush kizi, 1968, Baki
Huseinova Tamilla Mamed gizy, musicologist, 03.03.45
Gasimova Solmaz Jalal gizy, musicologist, 24.10.1929
Mamedova Rena Azer gizy, musicologist, 27.02.50
Rzaeva Lala, musicologist, 21.12.49, Baku
Safarova Zemfira Yusif gizy, musicologist, 10.06.37
Seidova Saadat Aga Mamed gizy, musicologist, 17.01.42
Sharifova-Alikhanova Vazifa Sharif gizy, musicologist, 01.04.44
Tahirova Farah Sabir qizi, musicologist, October 17, 1972, Julfa
Tagizade Aida Zeinal gizy, musicologist, 05.02.34
Yakubova Taira Akhad gizy, musicologist, 03.07.42